Welcome to FrankFrazetta.org
The UNOFFICIAL
Frank Frazetta Fantasy Art Gallery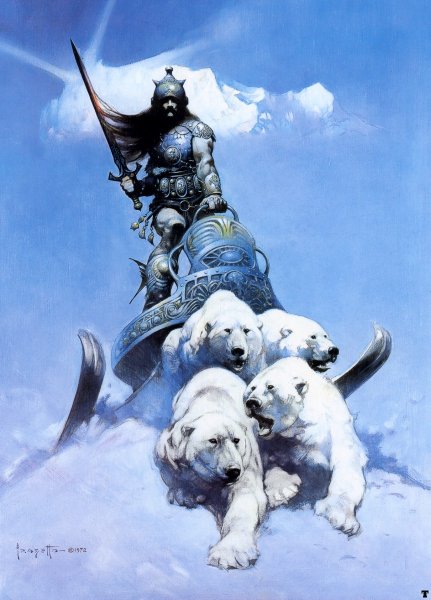 A word of caution:
Frank Frazetta's art
occasionally depicts
the human form
devoid of coverings.
There are several ways view the images in the gallery. You can take some tours:
Here are some other ways to access the images:
Access all images by thumbnail, except the new ones. Recommended. Contains everything in all the tours.

See the new images. These are not thumbnailed or sorted, and will be added to the tours at some future time.
Many thanks to the following:
Frank Frazetta: Who created all of this art!

Cerious Software: Who donated a registered version of ThumbsPlus, which I used to automatically create the thumbnail pages. Excellent software!

David Critchfield: Who sent me 49 new images.

<!a href="http://altern.org/fred99" target="_new">Frederic Michel: Who provided about 40 new images from his website.

Jason Pedersen: Who sent me 34 new images.

Ryan Foss: Who sent me scans of his Frazetta card collection.

The Baron von Swine, for the continuous stream of new images.

And everyone else: people who have websites that I found images on, people who sent me images, thanks!

---
Legal stuff: In the mid 1990s, I spoke on the telephone with Frank Frazetta Jr. regarding this website (the artist himself was not available). I let him know that I had gathered together a collection of his father's artwork from the internet, and that I was putting it up on my website. I also promised that I would forever link to the official website (Currently seems to be FrankFrazetta.net) so people could purchase merchandise there. I explained that if he or his family ever objected to my website's presence, they need but say the word, and I would take it down immediately. Mr. Frazetta Jr. has so far declined to ask me to remove my website, and the offer still stands. So, while of course I have no legal ownership of this material, the copyright holders seem to be neutral to this collection being available to the public. ---Eric
---
Thanks for visiting!
---